Gone are the days when cubicles, stark white fluorescent lights, and drab carpeting are considered offices people aspire to work in. A company's office space impacts how its employees, partners and customers view it. What would you like them to walk away thinking?
this company is uptight
this company is cheap
this company is boring
OR
this company is high tech
this company is creative and trendy
this company is friendly and welcoming
It's time to redesign and renovate your office to build a new face for your company. Here are some ideas for an office renovation that's going to impress whoever walks through your door.
Break down those cubicles
Cubicles and walls physically close off spaces as well as people, creating unnecessary barriers. They also make a place seem darker and more crammed. That's why an increasing number of companies have been opting for an open space design instead.
Open concept designs visually "open" up a space, creating a livelier atmosphere that's more fun to work in. Having  natural light is the best; otherwise, good lighting will do the trick. You'll notice that employees will feel more encouraged to interact with one another, thus improving communications. Don't worry about privacy for those confidential meetings and phone calls, those can be done in separate areas, we'll get there in a bit.
Create spaces for privacy
An open concept design is cool and all, but what about those calls that are too sensitive for everyone's ears? You can design separate booths (aside from regular meeting rooms).
For the most private, especially when they need to make a call, build a few phone booths like the one below.
Create spaces that encourage engagement
How many times do you remember having to pull a colleague aside for a quick update just to realise you don't have anywhere convenient to chat? A meeting room is unnecessary for these quick catch ups. Consider designing different spaces throughout the office where people will be able to do that comfortably with a little bit of privacy.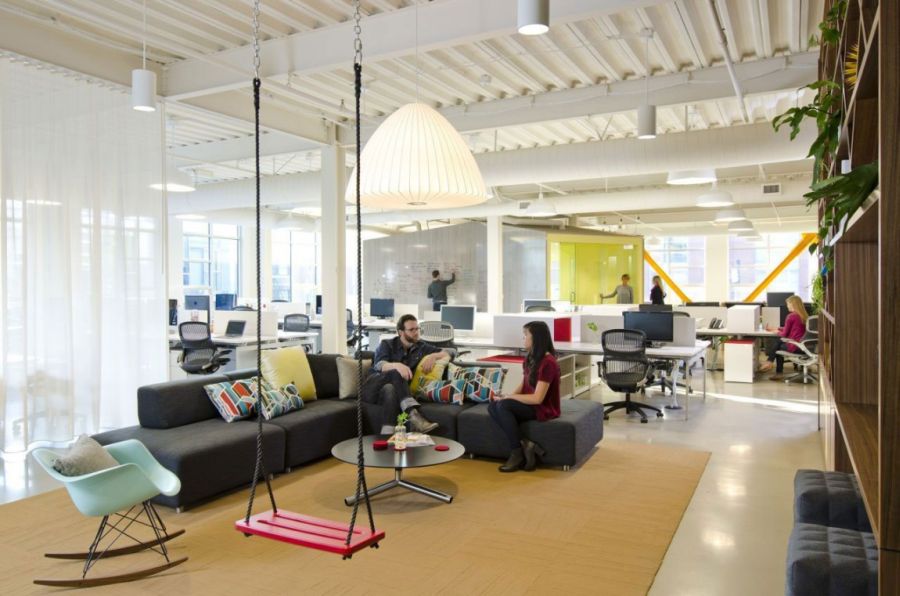 Add little conveniences
You know that everyone in the office is now inseparable from their laptop, tablets, phones while they work. If you're creating all the cool spaces as we mentioned above, make it even easier for your employees by incorporating charging stations, furniture with built-in USB ports and outlets, and the like.
Bring nature indoors
Eco-friendly office spaces help create a natural and tranquil atmosphere, helping to keep employees calm and rejuvenated. The plants will increase oxygen supply and be a welcomed sight for tired eyes after looking at screens all day.
Introduce some fun
It is proven that periodic moments of relaxation help people focus better and improve productivity. Things like acoustic pods, meditation rooms, game rooms and fitness rooms are becoming popular in office spaces. Having healthy employees are a good long-term investment.
Talk to an interior designer today on Kaodim.com on designing a modern, functional yet inviting office space that you yourself would enjoy being in. Then get help from our renovation contractors to do the work.