Until quite recently, granite was what everybody wanted to have and used to be the surface of choice for countertops in kitchens, bathrooms, and as table and island tops. But not anymore, a new trend is setting in.
You'll be surprised that the once very popular granite is being overtaken by a very old building material – concrete!
Available abundantly from Malaysian building sites, this dull and grey-ish concrete filler will surprise you by its design versatility and ability to be moulded into any shape and form. It's no wonder that this old-school wonder has become such a hit with interior designers, contractors and homeowners who absolutely love to work with this new material.
Be inspired to try this new trend; find out more about what makes concrete a great choice for your next home renovation or makeover:
1. Concrete Is 100% Recyclable
This means when reclaimed, they are an eco-friendly option. Not only can your countertop be recycled from old concrete, it is also 100% recyclable itself and you can combine other recyclable materials like glass to create one of a kind designs.
Using recycled concrete is also cheaper and more affordable for your renovation budget, compared to using new concrete which can be very energy-intensive and costly – consider this with your interior designer or renovation contractor.
2. Long Lasting & Durable
Concrete countertops are designed to be durable and maintains its integrity over time. So you don't have to worry much about repairs or maintenance problems. Minor scratches would usually be on the surface of the sealer that is used over the concrete top, so you can touch it up quite easily. Cleaning concrete is as simple as rinsing with some soap and water.
However, concrete is naturally a very porous material and is not stain-proof. Also, not all sealers are heat-resistant and it's best to avoid placing a hot pan directly onto your concrete top. So, it is very important that you find a manufacturer that uses a very good sealer and finishing wax that can protect your countertop from stains and heat.
3. You Can Stain It
Like we've said, concrete is very versatile and stained concrete is great for creating a marbled or rippled effect. Achieving the effects depend on the type of staining agents used – for instance, the marbled-effect below is made by acid-staining.
4. Comes In A Variety Of Colours
Manufacturers have been responding positively to the increased demand for concrete in modern home designs and you can now choose from a variety of different colours to suit your interior colour scheme. Who says concrete is boring? Add some stain-work to it and you've got your very own signature countertop!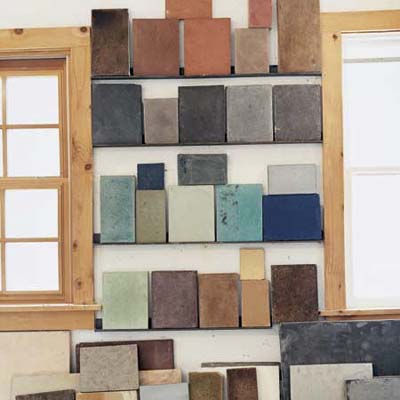 Natural colours like white, grey and brown are still popular choices for house renovations because of their classic and timeless look.
5. Have Unlimited Personality 
As far as concrete is concern, there's so many design inspirations! You can create abstract shapes for your tops and sinks, and even line the sides with crystals, mosaic tiles, seashells or just leave the rough edges exposed for added character! Why not combine concrete with other materials like glass and have a wooden frame around, or right in the middle of your top for that matter?
Let Kaodim's interior designer and renovation contractors help with your design and material consultation, sourcing, installation and custom-making your countertops. Make an enquiry today and get up to 5 free quotes to find an expert that fits into your house renovation budget.
It's that simple!