Thinking of renovating or remodeling your kitchen? Having a space to cook, eat, entertain, relax and hang out with your family and friends motivate Malaysian homeowners to rethink the concept of a kitchen, spurring a desire to redesign and repurpose a kitchen. That's when interior designers and renovation contractors are brought in to transform your kitchen.
One major element of the kitchen is the countertops. It's important that your kitchen countertops are highly functional, but they also add to the general style and design of your kitchen.
To get you started, here are 9 types of popular kitchen countertop materials and features for you to consider:
1. Solid Surfaces
Solid surface countertops are made of acrylic or polyester with fillers added and are one of the most common countertops because it is very affordable and requires little maintenance. You can design and mould the acrylic into many styles and colours. Bright-coloured tops like the one below are also trending in modern interior designs.
Although they are not heat and scratch resistant, you can buff and sand out any marks quite easily. It is a non-porous material, good for food prepping and is not easy to stain.
2. Ceramic Tiles
If you are looking for a low-cost material with a unique look, consider ceramic tiles. It's an alternative to more expensive countertops like granite or marble, without sacrificing style.
Popular for DIY kitchen projects, you can get creative by choosing different colours, patterns and tile sizes to create a one-of-a-kind countertop for your home. Some tiles will inspire a retro look for sentimentalists like me.
Ceramic and stone tiles are very durable, but maintenance can be tedious when it comes to cleaning the grouts.
3. Laminate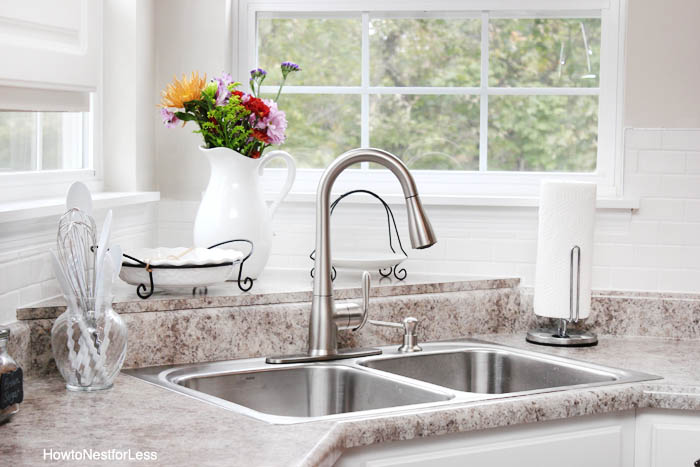 Laminate has come a long way. They used to be cheap looking for cheap rented homes. These days, the quality, functionality, look and of course, price makes laminate a good choice for kitchen countertops in our homes. Laminate is easy to maintain and comes in a wide range of patterns and colours: wood, marble, black, red, matte, glossy, stripes, etc.
However, laminate tops are not heat or scratch resistant. Not for the heavy-duty chefs.
4. Glass
Glass is another non-porous material, so it is very hygienic to work on and clean. It can also withstand high heat, so you don't have to worry about putting that hot pot down on the countertop. You can find different types of glass designs, textures and colours in today's market.
5. Granite & Soapstone (Natural Stones)
For those willing to make an investment and spend the extra moolah for a luxurious kitchen design, natural stones like granite and soapstone are top picks for elegance and durability. They are also an environmentally-friendly material.
Granite is highly popular because of its colours, unique grains and natural character. There are different colours and finishing types you can choose from.
Soapstone is resistant to heat, stains, chemicals and bacteria. We can see why it fits perfectly in the kitchen!
6. Marble
Prized for its luxurious design and classic elegance, marble is one of the most expensive materials for kitchen countertops. It is heat resistant, which is good. However, it is porous and a softer material compared to to granite, so it is very susceptible to scratches and stains. Good for those who don't really cook but want a fancy looking kitchen to impress guests with. Definitely something to think about when planning your kitchen renovation.
For additional protection, make sure that it is sealed properly to reduce the risk of any permanent damage. However, many have not been deterred from using marble as their countertops as they are continuously drawn by its charms.
7. Stainless Steel
Straight out of the professional industrial kitchen, stainless steel countertops complement many of today's kitchen appliances. Great for making small kitchens look bigger because of its reflective property.
It is very, very heat-resistant, hygienic, easy to clean and does not stain. Do check that your countertop has a firm underlay so it doesn't dent easily.
 8. Wood
Gaining popularity are wood kitchen countertops. They are being sought after for their durability and warm style.
There are a variety of wood that feature different grain designs and colour. Usually available in slabs, you can also choose a butcher block type counter which are straight pieces of wood glued together to form a thick slab.
Be mindful, wood countertops are not heat or stain resistant – use a heat pad or trivet. It is susceptible to knife marks and burns. Give it some TLC and it will make for a long-lasting countertop.
 9. Quartz
Quartz is an engineered type of stone and often come with a warranty. It is known to be very resilient and is one of the hardest materials in the world consisting of ground quartz, resin and pigments.
It is easy to clean and stain resistant. In comparison to natural stone tops, quartz countertops are not completely heat proof, so it's still best to use a pad or trivet for hot pots and pans.
Since it is manufactured, you have more design and colour options to choose from.
What are you waiting for? Turn your kitchen into a beautiful, impressive space with the help of Kaodim's interior designers or renovation contractors.