First comes love, then comes marriage, then comes baby in a baby carriage! Well, baby needs a place to sleep, play and feel safe at the same time. With the anticipating joy of the birth of your child, you may also have tons of ideas for your baby's dream nursery and have already picked a room in your house to renovate.
With the price hikes and added GST in Malaysia, baby items and furniture can be quite expensive. However, we still want you to be able to create that special place for your precious little one, so here are 7 nursery shopping tips for all you parents on a budget:
1. Buy second-hand or discount items
Just because your baby is new, not everything in the room has to be new. Items such as artwork, rocking chair and gliders are not used often after previous babies outgrow them and can be purchased from discounted or outlet stores, and second hand furniture shop. Also, try browsing online on websites like ebay.com or mudah.my.
If you still prefer to get new items, buy them during sales and promotions well in advance.
2. Focus On Quality & Longevity
It's normal for very parent to want a cheerful nursery for their baby and it's also easy to get carried away with store-driven advertising to by Disney themed furniture! Your baby or toddler probably wouldn't know the difference between "Cars" or "Frozen".
Since you're on a budget, it's important to spend your money wisely on quality items. Take a convertible crib as a great investment for instance – you can make your ringgit go further as your baby can grow up and continue to use it as a bed until he or she is 3-4 years old.
3. Decorate With Wall Decals Or Stencils
Rather than installing wallpaper, wall decals or stencils are great alternative to decorate and add character to your baby's nursery. You can find stencils in decals (peel-&-stick forms) or forms that you can paint over with. To save on painting cost, simply use stripes or just paint half of the wall as part of your interior design scheme.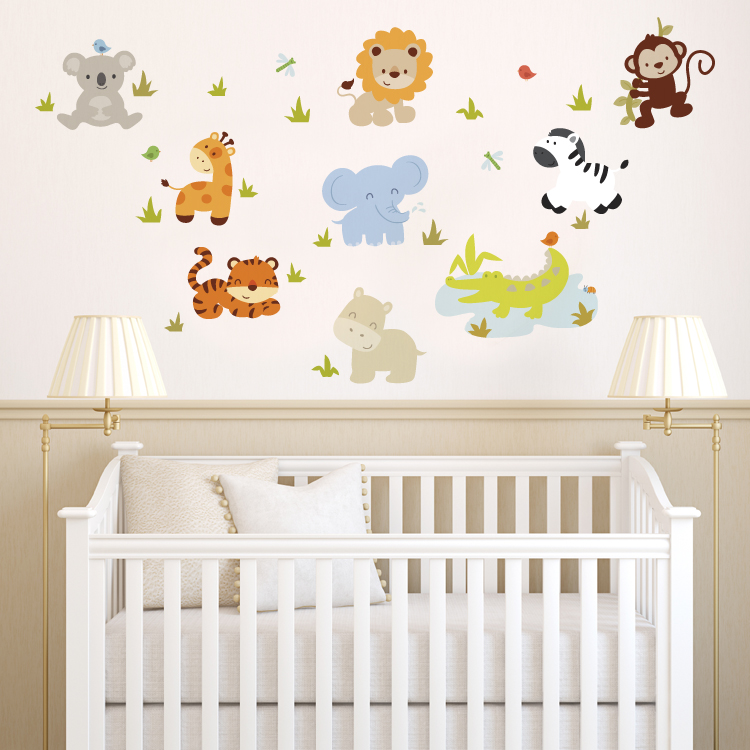 4. Skip The Expensive Bedding
The important thing to look for when purchasing your baby's bedding in to find a firm and well-fitting mattress. Add on a thin waterproof mattress cover and a few changes of sheets. If you have a little extra cash left, you can complete the look with some cute fitted sheets and a crib skirt.
There are reasonably priced stores out there, take your time to look around or ask for references from your friends and family.
5. Use Personalised Items
Fancy artwork and wall hangings are good for decorations but well, they are overpriced most of the time. What would be better is to use personalised items which you already have at home – think about family photos or your baby's footprints.
There are hundreds of easy, cheap and beautiful DIY nursery decor ideas you can search online as well. Such personalised items are more meaningful and it makes all the effort that you put into the nursery's design and decor worthwhile.
6. Choose Beautiful Low Cost Storage 
Low cost storage that are also beautiful are widely available from stores these days – so you can store your baby items and use them as decor pieces. Instead of buying storage furniture, you can get simple decorative baskets that can be left on the floor or lined neatly on shelves. Reuse old cabinets and refresh them with a new coat of paint or use decals to decorate them.
Another space saving solution is to use the empty wall space in the nursery. Install hooks and hang baskets or you can ask a carpenter or your contractor to install shelves on the walls (unless you are a DIY professional and can do it yourself!)
7. Invest In Multi-Purpose Items
Furniture that can be used for more than one purpose are the best budget savers (like the convertible crib above!)
As an example, instead of buying a changing table that is just a changing table, you can either purchase a waist-high shelf for storage and use the top part to create a changing table. Or you can use a changing table that can double up as a dresser also!
Get planning for your baby now and contact one of our interior designers or renovation contractor if you'd like to have professional help to design your nursery space or renovate a room. We also have other suppliers and handyman services on Kaodim.com for your wallpaper installation, curtains,blinds & drapes, cabinetry, painting and fixing ups in your room.
Simply enquire, compare quotes, hire, and Kaodim it!