A bathroom can be tiny but it doesn't mean it has to look drab and uninviting. It is especially common for apartments or condominiums in Malaysia where the guest bathroom might come in a rather tight space. It's even more important then to not neglect it! Spruce things up a little with some new ideas below.
De-clutter the space
Sometimes, the easiest option is the best option. Before we do anything, why don't you start by de-cluttering your bathroom? Simply reorganize or store unused items on the countertops into easy-to-reach storage units. Hang towels neatly. Do you really need three bottles of shower gel? Get rid of old shampoo bottles that have just been sitting there for months.
Install new fixtures
Out with the old and in with the new! New sinks, toilet bowls, faucets and showerheads to replace the cheap-looking ones installed by your developer can give your small bathroom a refreshed look. However, if you need help with more complicated tasks, we recommend engaging a plumber.
Downsize
If installing new fixtures sound like a good idea, you might also consider replacing large, chunky fixtures with smaller, slimmer ones. This will open up the space in your bathroom and make the things look less clunky. Pedestal sinks with their slimmer legs are always a better option for a tiny space.
Build floating shelves
A bathroom still needs to be functional and convenient. The worse is having to step out of the bathroom soaking wet to look for the things you need. At the same time, you don't want to over-clutter your already cramped space. Floating shelves are a neat idea that give the room a neat look too when organised well. Consult one of Kaodim's carpenters and see what options you have in terms of colour, material and design.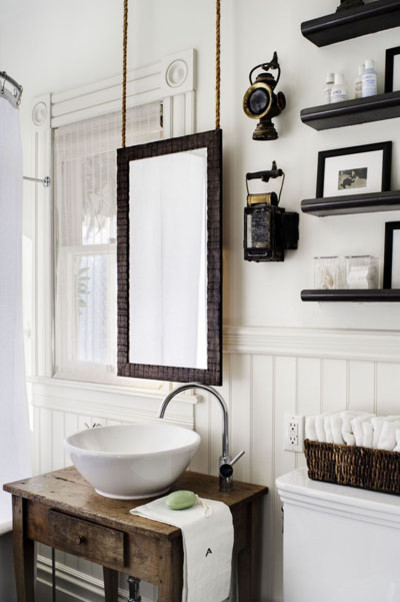 Choose a different colour scheme or pattern
Select soft neutral colours or a white color palette for the walls and fixtures and then splash some fun colors on the shower curtain, towels and accessories. Lighter colours also make the space look bigger.
If you need help painting the walls or your cabinets, contact one of Kaodim's professional painters in Malaysia.
If you're feeling more adventurous or want something a lot more exciting, consider a wallpaper! Pick one that shows off your personal style.
Give it a spa treatment
Yes, your bathroom is small but it doesn't mean that it has to be plain. Upgrade it into a luxurious bathroom! Check out our other blog articles: 7 Steps to Create a Spa Sanctuary At Home for tips. Touch it up by adding some flowers, candles, fluffy towels, an awesome new showerhead and the like.
Change the floor plan
If the whole bathroom still isn't working for you, this would be the last step — changing the entire floor plan. This would create a lot more work, time and budget so we don't recommend going there unless it's really necessary. You can engage a renovation expert or interior designer to redesign the entire layout of the bathroom. Relocating the toilet bowl and the sink can perhaps do wonders to a small bathroom. Replacing a bathtub with a shower will also free up more space.