Exposed brick walls are certainly the a must have accessory for contemporary homes. Warm and textural, the exposed bare bricks stand as a statement on its own in the world of interior design and are very popular with modern house renovations. In case you haven't noticed, almost every other hip restaurant in downtown KL, PJ, Damansara and Subang is not seen without them.
Less is more – so limit your bricks to one or two walls. Bricks should be slightly uneven in their colour and shape. If they are in poor condition, you can paint over them – a white wash is classic, or why not try other colours in grey or mushroom.
Using a construction adhesive or spreadable mastic (instead of mortar) to adhere the bricks to the wall, would make it easier and less messy to install your own brick veneer.
So let's get started! Here's your DIY shopping list of tools & materials for this project:
hammer
two inch wide brick chisel
thin bricks (about 1/2 inch)
construction adhesive or spreadable mastic
mortar mix
large pail (to mix mortar)
grout bag
tuck pointing tool (for smoothing mortar)
sponge (to clean up)
After a trip to the DIY store, just follow the steps below:
1. Clean The Wall
First thing's first, clean the wall really well. Dust and debris will make it hard for the adhesive to bond so it is important to make sure that all of the dust is off the wall. Use a slightly damp rag to wipe everything down and wait for it to dry.
2. Draw Level Lines
Use a chalk or laser level to draw a line at the bottom and side of your wall. It is not necessary to draw an entire grid since you would start putting the bricks on from the bottom up. So you can draw a new line for the next row after completing the first one.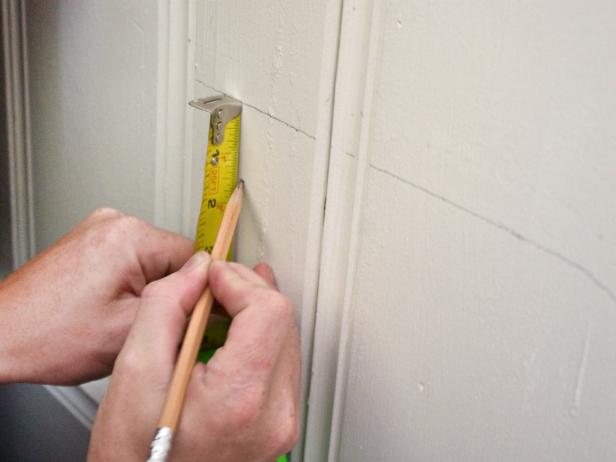 3. Start From The Bottom
Read the instructions on your construction adhesive. Different brands will have different holding power and bonding time, you don't want to end up with bricks slipping off the walls!
Start by adhering one row of bricks along the bottom of the wall and one row up the side. Apply beads of the adhesive to cover the back of a brick and press it onto the wall. The brick should immediately stick on without slipping.
For the spreadable mastic, cover the entire back of the brick like you would frosting a cookie.
Standard adhesive should take about 20 minutes before it drys, so you do have some time to adjust the spacing around the bricks as necessary.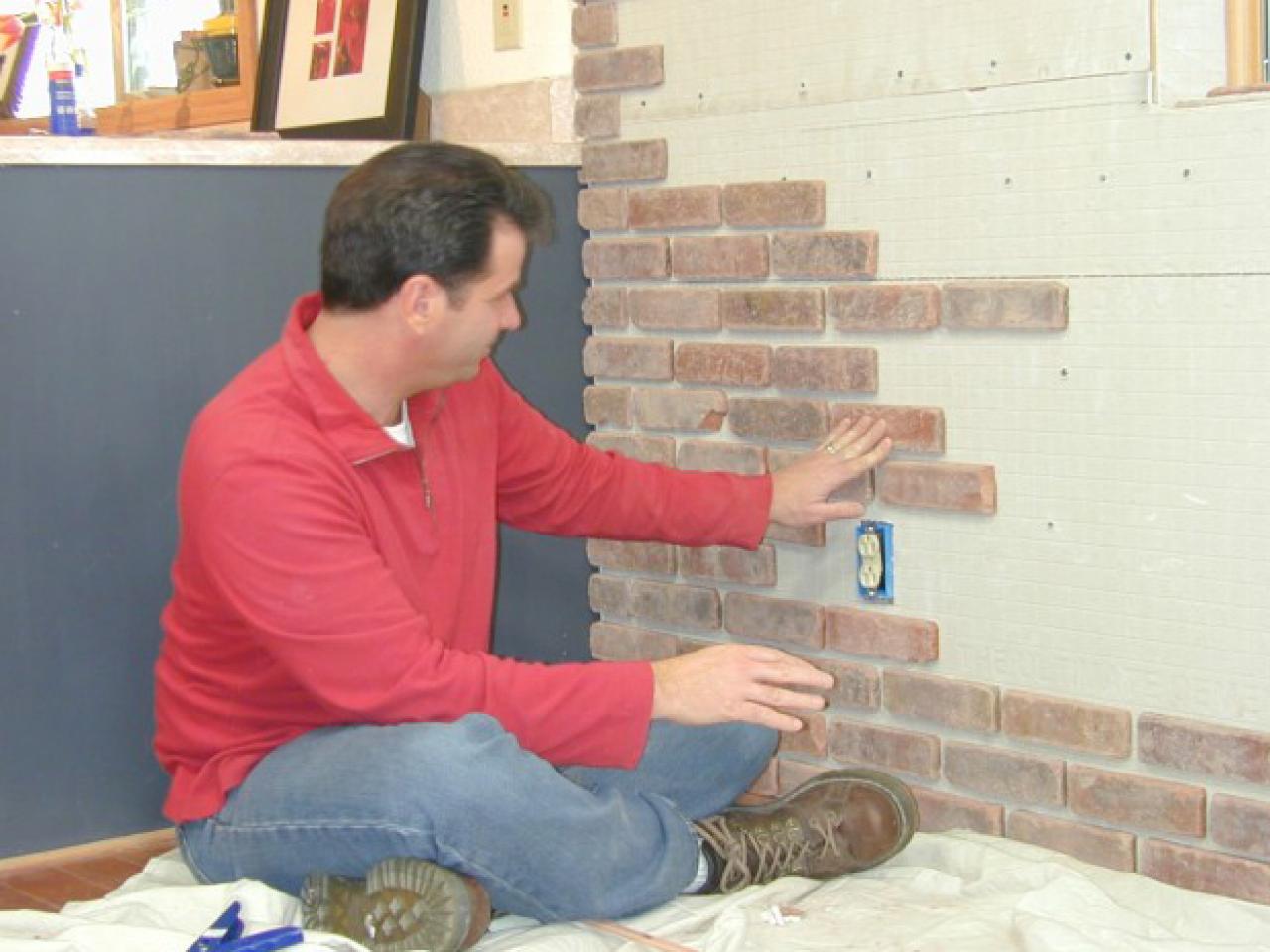 4. Cutting Corner Bricks
You may have to cut the last brick with a chisel, since it's very likely that it would not fit in the remaining space at the end.
Simply cut a brick in half with a brick chisel. Use a hammer to knock the chisel down. Do this against a hard surface such as a slab of wood, or on the ground.
5. Slowly Stack Them Up
Once you are happy with the first row, move on to draw a new level line above the previous row if you need a rough guide. Continue to adhere the bricks in the same fashion above.
You will also want to have every alternate piece going up the wall to be a half-brick, to create a running bond design.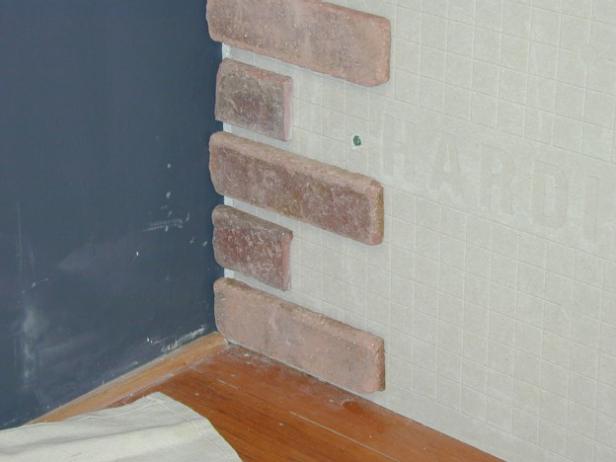 6. Mix The Mortar For Grout
Next, mix the mortar with water in a pail until it turns into the consistency of peanut butter or toothpaste.
Fill the mortar into a grout bag and squeeze it in between the brick spaces. Cut the tip off the grout bag according to the size of your grout, only after you filled the mortar in. The mortar should flow out easily.
7. Even Out The Grout
After filling a few rows of grout, use your tuck pointing tool to go over the mortar and aim to flatten it.
It doesn't have to be super-smooth as you still want to keep the rustic feel of the wall.
8. Finish & Wipe Off Excess
Wipe off any excess mortar or adhesive that may have gotten on the bricks with a damp cloth or sponge. If your wall is in a humid or moist area (as you do in Malaysia), it is a good idea to apply a sealer over the entire wall when you're all done.
If the combination of brick, mortar, tools and hard work scares you, get help from our house renovation contractors, carpenters, handyman and interior designers who can help you plan and finish your brick wall from start to finish.
It's very easy on Kaodim – just select what work you want to have done and your location. We will send you up to 5 free quotes from our contractors for you to compare!