How hard can it be to choose a faucet? Isn't it just a matter of going into a hardware store, select a nice looking design and screwing it onto your sink when you get back home? This is where most homeowners go wrong.
Sure, you can leave it to your contractor and interior designer to choose the plumbing fixtures for you, but it will save you a lot of time and money from going back and forth between their selections if you know the right criteria to look for in the first place when choosing faucets.
There are a few simple yet very vital criteria that you need to consider when choosing the right faucet for your kitchen or bathroom and to make it easy, we've put them together here just for you:
1. Aesthetic Appeal
This is the most obvious of all considerations. Faucets come in different styles, height, handle shapes and they are also fitted with many modern features like LED lights, temperature indicators and pull-out handles.
The look of your faucet is just as important as all the other design elements in your home to complete the overall look of your kitchen or bathroom. Since you'll be using them for a very long time, make sure that you visualise how practical it would be to use a particular type, feature and height of faucet.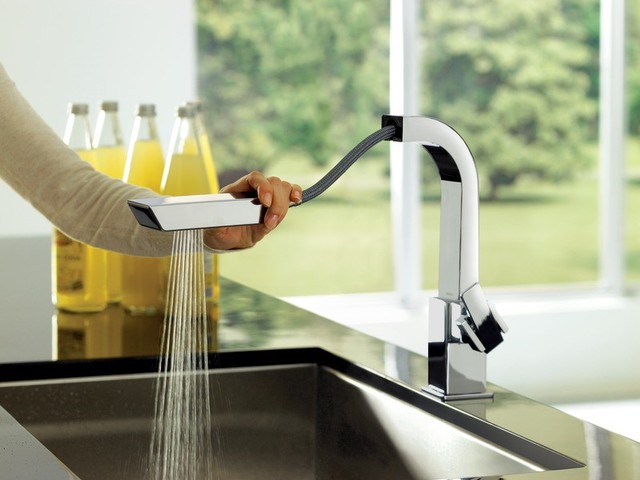 2. Material
Next in the process is to choose the right type of material for your faucet. Solid brass is considered the best material to have for faucets – it can handle high temperatures when you turn on the tap. If you decide to go for stainless steel ones, try to avoid faucets that have parts made from plastic.
3. Single Handle or Double Handles?
Most people don't know why it matters at all how many handles a faucet set has, or why they should even be bothered about it. Faucets that are available come in either one or two handles, and there are also hands-free designs available where the faucets can be automatically activated either by sensor or touch.
One-handle faucets are popular because they are more convenient to use – you can make adjustments according to the temperature that you want very easily and accurately. Two-handle faucets might not offer the convenience of one-handle faucets, but they will give your sink a good symmetrical look.
4. Sprayer & Spouts 
Regular spouts can extend to around 3 to 4 inches above the surface of the sink. If you have a double-bowl sink, make sure you pick a faucet that has a head that can swing sideways to reach both sinks. You can also choose a sprayer head which is very helpful when washing dishes in the kitchen or get sleek with a waterfall spout design.
 5. How Much Are You Willing To Spend?
If you have an unlimited spending budget for your bathroom, kitchen or house renovation, go all out! Find a faucet that suits the style of your home that has high durability and can last long.
But it's still a good idea to look around for the best price available at different suppliers and shops before settling on a purchase.
However, take caution and do not fall for 'too good to be true prices' offered at some shops before comparing it to others. There's a huge possibility that you're buying into low quality faucets or extremely old stock which can be brittle – so do a thorough check on every item!
Discuss with our renovation contractors and interior designers about simple ideas that you can do to enhance your home's functionality and how to decorate your bathroom and kitchen for a fresh makeover!
Kaodim it in 3 easy steps – send us your enquiry & receive quotations sent directly from our contractors, compare and hire!