In this electronic-driven age in the home (yes you, the one with 4 iPads, 6 smartphones and 8 laptops), the wires and cables that come with these items on top of the regulars — lamps, fans, microwaves, toasters — coil themselves around your feet, your chair, your cat. Before you know it, your cables have almost buried you alive. Not to mention, they are a terrible eyesore.
In true Malaysian fashion, closing one eye can be a temporary fix, as long as no one trips or electrocutes themselves. Luckily there are better, smarter ways to hide those electrical wiring and troublesome cables. Check out how a little bit of creativity can go a long way!
1. Box 'Em Up
Housing all your chargers in one box is a quick way to organise and hide the mess.
Firstly, find a box. You can be reuse shoe boxes or file boxes or if you're feeling like splurging, shop for one that has more of a decorative look.  Cut out or punch the number of holes you need for your chargers. Then, insert curtain rings where the holes are. Now you can place the chargers and extension cables in the box. Loop each individual cable accordingly through their designated holes, and voila! It's ready for use.
2. Stick 'Em in Drawers
Another way to keep your charging station looking clean and organised is to house them in drawers. Connect the wires from behind the drawers. This is probably the quickest and easiest way if you already have a drawer located in a convenient space.
3. Shield 'Em With a Curtain
Now you see it, now you don't! Introducing: the 'desk curtain'!
Use a fabric of your choice (black or white to be more obscure but feel free to double it as decoration with a patterned fabric) to hide messy wires. If your table has a metal frame, you can attach the cloth on using either strong magnets or adhesive magnets. Think of them as skirts.
4. Hook & Hide 'Em
Here's a cool and versatile trick – adhesive hooks. There are different types that you can find in stores, so pick one that's suitable for your mini DIY project.
Attach the hooks either under the table or line them neatly along the back frame of your table (no one's going to see them after all). Roll neatly and hang the excess wiring like in the examples below.
You can also use slightly bigger hooks, like a teacup hook, to hang a desktop filing basket to hold your cables on the underside of your table.
5. Cover 'Em in Plastic
You can find different types of plastic coverings in a variety of sizes and lengths. They are commonly used to cover electrical wirings for water heaters or lighting along the ceiling-wall or AV cables on the floor.
When used discreetly, it's a no frills method to hide your cables. Run the plastic covering along the wall for your computing devices or mounted TV set, and paint it over with the same colour as your wall to camouflage it.  No more loose cords!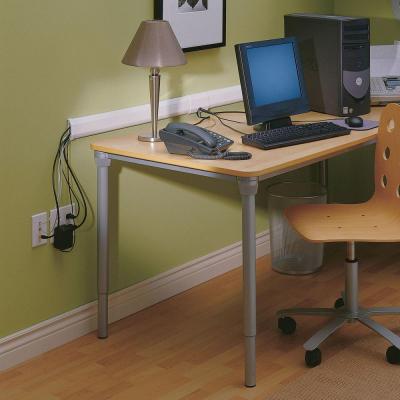 6. Class 'Em Up With Crown Molding
Crown moldings are a classier alternative to plastic coverings even though it will take some professionals' help (check out some of Kaodim's professional carpenters). They are a popular choice to conceal electrical wiring along the ceiling-wall. The molds are hollow in the middle like the plastic coverings above where the wires can be fed through to connect them to their power outlet. They are a great option if you have a brick wall instead of a drywall.
Get shorter versions which are called crown molding 'shelves', which you can use to create a mantel around your electrical appliance and add to the interior decor.
If you can't find these type of 'shelves' at the DIY store, ask your carpenter if he can custom make one for you.
7. Hide 'Em Behind Drywalls
Having a mounted TV is a dream come true for most dudes, but having those cables hanging about is a huge eyesore when you want to impress your mates when they come over. If you have a drywall, why not cut it open?
The 2 main tools that you need are a drywall saw and a low voltage recessed cable plate or electrical box that's designed to be fitted into the drywall to hold your cables in place.
After cutting out a hole behind your TV mount and another near the power outlet, attach the electrical box. You can use a fishing line or string to feed the cables through the holes.
Any other brilliant ideas? Let us know!