Toothpaste's primary purpose is obviously to help us get healthier and brighter teeth. Unknown to many, plain white toothpaste also offers many unexpectedly interesting uses, especially as a non-toxic cleaning agent. It's definitely one of the best kept life hacks!
Here are some surprising tips on ways to use toothpaste that you'll never believe otherwise! Share them with your family, friends or house cleaner and they'll thank you for sure.
1. Remove Clothing Stains
Toothpaste is excellent in removing various stains on clothing such as lipstick, food, ink and grass stains. Squeeze some toothpaste on the stain, rub vigorously, then rinse with warm water. Repeat several times if it's a stubborn stain. Then wash your piece of clothing in the washing machine as usual.
2. Eliminate Water Stains on Wood
Frustrated because you can never get your children to use the coasters you've left around? Annoyed by unsightly watermark stains on your favourite pieces of wood furniture? Here's a trick! Gently rub some non-gel toothpaste on the surface with a soft piece of cloth. Then wipe it off with a damp cloth. It should work fairly easily. Repeat the steps if necessary. When dry, polish with a little olive oil.
3. Clean Your Jewellery
After years of wearing your jewelry, here's a quick fix to get rid of dirt and letting your beautiful pieces sparkle again. It works on jewelry of all types including gold chains, diamond rings and silver. Use plain toothpaste with no tartar control or whitening agent. Apply a small amount of toothpaste onto a damp cloth. Rub gently on your jewelry then rinse with warm water. A toothbrush will come in handy in tackling the grooves. Wipe dry with a soft cloth.
4. Remove Marker and Crayon Stains on Walls
Do you have several aspiring artists at home who are expressing their imaginations on every surface imaginable? Fret not! Squirt a general amount of toothpaste onto the drawings on the wall and start scrubbing! Rinse clean with warm water to remove the residue. Good luck in introducing these little creatives to paper.
5. Dissolve Carpet Stains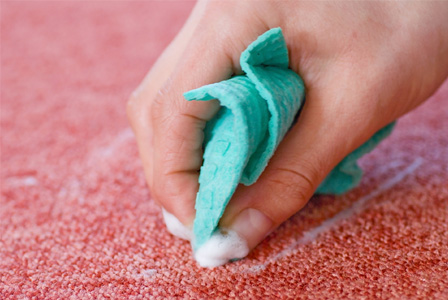 You'll love this one. Toothpaste will remove almost all carpet stains: wine, coffee, pet, spaghetti, etc. Just squeeze a little bit of white toothpaste onto the stained area. Scrub with a cloth or sponge. Rinse with warm water. Dab with a piece of dry cloth then let it air dry before vacuuming.
6. Clean Car Headlights
Are your headlights getting blurry? Time to treat it with relative ease using toothpaste. Add a squirt of toothpaste to a bowl of warm water. Dip a buffer pad in the mixture then wipe away the dirt and grime. Finish with a dry soft cloth. Be amazed at the results!
If you are having trouble removing extremely stubborn stains in your home, get some help from one of our professional cleaning services on Kaodim.  They offer part time maid cleaning services that will get your house spruced up in no time.