There are about half a million water heaters used by homes in Malaysia, but with this combination of electricity and water in your bathroom, how much do you know about water heater safety? The most common type of water heater in Malaysia is the electric powered instant water heater, which heats the water as it flows through a heating coil in the unit itself – which also means that as long as you are still having that hot shower, there is a constant flow of electricity inches away from you at the same time.
So before taking your next shower, take a few minutes to read 5 of our safety tips when using your water heater:
1. Do Not Install Yourself
We like DIY stuff, but you probably won't find us posting a DIY for installing water heaters yourself. For safety reasons, it is always best to call a qualified electrician to install the electric water heater for you.
If a water heater is installed incorrectly, it might not be properly secured or safely connected to the electrical wiring and this could cause some deadly circumstances to the user.
Before calling the electrician, contact your local plumber to advice on the best location to place your water heater.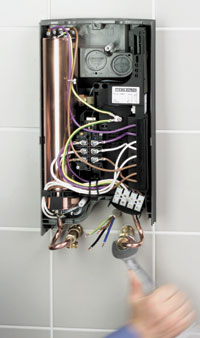 2. Keep It Elevated
Make sure your electric water heater is positioned high enough on your bathroom wall. To be safe, it should not be any lower than the head of the tallest person in your household. If it is located any lower, it could be easily hit by water when you shower – this could cause a short circuit!
Consider doing some bathroom renovation to provide ample space if your shower area is too small.
3. Read the manual
If you always skip the instructions when assembling your IKEA flatpack, this is one time you shouldn't make an exception! Every electric water heater comes equipped with a manual to show you how to operate the device.
Read and understand it thoroughly before you change any settings. If you don't have a manual, contact the manufacturer – their number should be posted on the heater.
4. Switch Off When Not In Use
For standard electrical water heaters, you would normally have pre-set temperature settings for warm, hot, very hot or something similar.
In a country like Malaysia where the temperature is warm all day, switch off your water heater after every shower avoid overheating. This will minimise any electrical damage in your water heater and also save your electricity bill.
5. Service Regularly
It is not commonly heard in Malaysia but when you purchase your water heater, find out if your model make needs regular servicing. Different water heater designs do have different maintenance requirements – better safe than sorry!
Contact Kaodim for a list of qualified electricians and plumbers who can help with your water heater installation and repairs.
Get up to 5 free quotes when you make an enquiry!