Can't figure out how to transform your bare patch of grass into a picture of Eden? Don't worry, we all have to start from somewhere. Although the easiest way is to hire a professional to do your landscape design, it is not impossible to do a bit of gardening and landscaping yourself.
Be prepared to lag behind in speed and performance compared to the pros, but you'll end up with a terrain of flowers and greenery to frame your house beautifully that you can be proud of! So go on, give it a go!
Here's 5 tips to help get your gardening landscaping foundations right:
1. Sodding
Think of a 'sod' as a carpet of instant grass. Instead of waiting for your grass to grow from scratch, sodding is the quickest way to lay down your green.
Most homeowners can handle sodding if there is no grass in their gardens. Read up on how much water is needed after rolling out the sod and how to maintain it. Ask your supplier or nursery for advice.
If you want to use the sod to repair the existing grass that you have, it is best to remove the old grass before laying out the new sod.
A quick and smart way to know how sodding is done is to find someone who has a good sod laid out in his garden and ask him how he did it!
2. Planting Trees
The trees that you choose, will define your landscape. Start looking around at other people's gardens and magazines to get some inspiration.
When buying a tree to fit your home, know how tall it would be when it reaches maturity as most shops will sell them when they are younger and below their full grown height. Think about what features you'd like your trees to have, for example if you prefer a tree that can give you some extra shade, or a flowering tree (just because it's pretty).
Make sure to also find out whether a particular tree type is easy to plant and maintain – what is the optimum planting time, what materials to use to help it stand, and how much water it needs when you first plant it.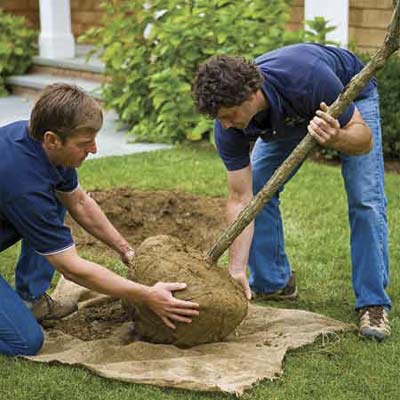 3. Combining Flowers & Shrubs 
Choosing flowers and shrubs to fill your landscape requires you to put on your creative hat. Think like a designer – experiment with mixing and matching different colours, foliage, and plant combination.
Use flowering shrubs that are small and compact as a 'foundation plant' to go around your house building, and larger shrubs as a hedge or an 'informal border' around your garden.
Seek help from your nursery or landscaper to educate you on the best soil combinations and planting of specific species.
4. Advance to Adding Features
You've gotten to know the basics of laying down your green, choosing trees and combining different flowers & shrubs. The next step is to think about how you'd like to add other features and accents to your landscape design.
There're lots to choose from – a water feature, pebbled walkways, an outdoor deck, and even gazebos for you and your friends to relax and enjoy the outdoors.
Start with smaller landscaping projects – if something messes up, you can easily remove it and try again. Bigger projects like installing a water feature would require specialist skills and knowledge, so it's best to call a landscape contractor or designer. When they are around, don't miss the opportunity to watch and learn from the masters!
Have a vision for your garden, but don't have the muscle or time to do it yourself? Kaodim has a list of qualified landscaping designers and contractors in Kuala Lumpur, Petaling Jaya, Klang Valley, Penang and Johor Bahru – compare up to 5 free quotes!