Rugs are increasingly used in Malaysian homes as 'style-statements' to anchor spaces in different rooms. Getting a rug is one the easiest and most affordable options to liven up the atmosphere of your home, both indoor and outdoor.They make great points of interest in the room and enhance other décor and components. Choosing a well-designed rug gives you the opportunity to add colour, texture and new life into your room. No need for any major house renovation! All you need is some time for shopping and a good eye for interior design. Otherwise, there's always a Kaodim professional interior designer in Malaysia you can always consult.
Below are 10 rug designs to inspire homeowners who want to super-style their houses:
1. Zig-Zags
One of the most popular designs for rugs is the Chevron – it is both timeless yet modern and goes along with most styles at home. To up the ante for a design that's even more fun, go for the more abstract looks with brighter colours.
2. Diamonds 
Diamonds are forever and the same is true even for rug patterns. This pattern has recently been a big hit for this season. Small diamonds, big diamonds, overlapping diamonds…there's plenty to choose from.
This diamond rug above is a modern spin on traditional tribal patterns and textile, and exudes an exotic element into any contemporary setting.
In the image below, this toned down pastel palette softens the otherwise sharp diamond outlines and adds a vibrant touch to a neutral background.
3. Bold Geometrics
If you like the diamond designs, you will certainly like these sharp and vivid geometric rugs too – their bold patterns will anchor your interior beautifully and giving it a classy mid-century modern feel to the room, a trendy look thanks to the hit show Mad Men. You can certainly be house-proud with these trendy pieces decorating your floors. They are perfect complements to liven up rooms with solid coloured furniture.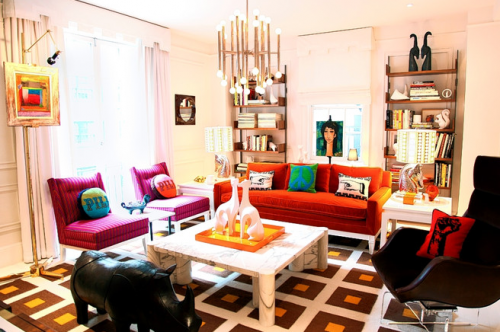 4. 3D Effects
These are not for everyone, especially those who love a more classic design. However, these creative, fantastic designs are an interesting idea especially for fans of thick rugs. You can find them in different themes and don't be surprised if some of them look almost real, like this 3d effect rug by Liam Hopkins – a cool option to up your coolness factor amongst your friends.
Shag piles like the Stepevi rug on top are popular 3D designs because of their ability to match most interior décor.
5. Earthy 
Earthy styles evoke a harmonious, Zen-like feel that reminds you of natural materials such as stone and wood regularly used in homes.
There are many stylish designs inspired by Mother Earth apart from brown neutrals – this marble-esque rug from Urban Outfitters is inspired by the bands of rocks and minerals, perfect for those wannabe or actual geologists.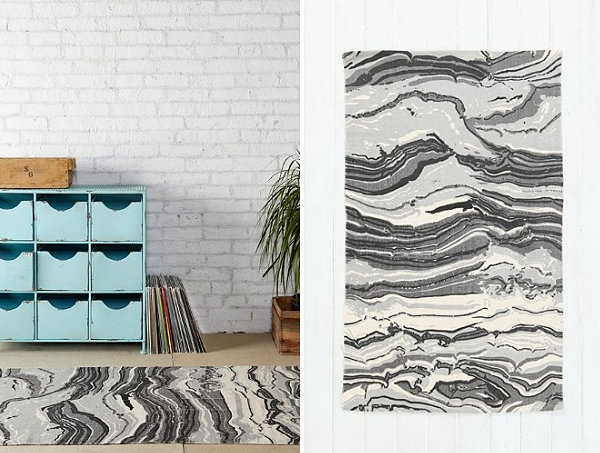 The neutral furnishing in this room below is complemented by an earthy blue rug, creating a very tranquil space. Who would've thought nurseries could look this chic?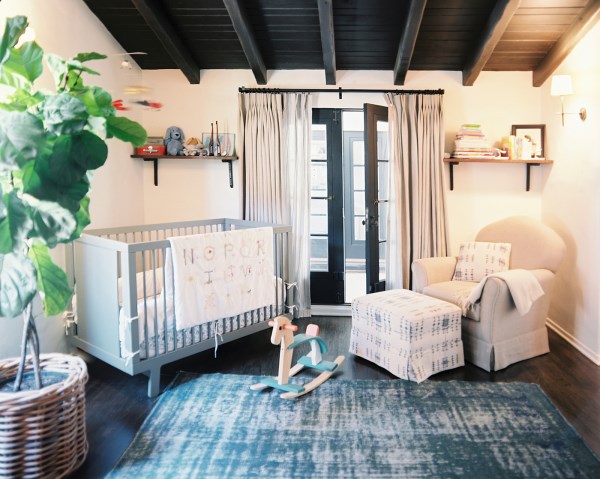 6. Layering Your Rugs
Layering multiple rugs work well if you want to cover a large floor area like the living room or a loft. It's also an opportunity to get creative when layering and mixing patterns for a cohesive yet impressive look.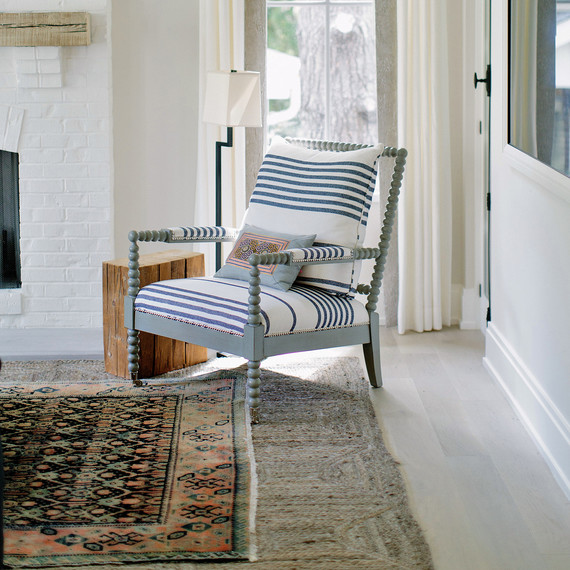 Some wonderful tips on layering your rugs:
Use identical rugs and lay them in any order around the room with some space in between
Layer just a part of one rug on the other
Balance bright bold patterns with a neutral rug below it
Don't limit yourself when trying to pair different textures together. Mix and match until you find the effect that you want
7. Abstract Shapes
For bold rebels, these funky styles are a welcomed change to conventional square rugs. Doubling up as stylish art pieces, they are truly modern. Getting inspired already?
8. Pop-Art 
Pop-art rugs tend to be vibrant and create a refreshing ambiance thanks to its bright warm colours and sharp texture. It may not be everyone's cup of tea, but it sure captures a dynamic and colourful vibe for your room.
Most pop-art rugs are right at home with modern and minimalist interior designs.
9. Faux Fur Rugs
In fashion, fur never goes out of style though animal lovers might object to that, passionately. So let's talk about faux fur instead! Faux fur rugs add plush dimensions to home interiors. Its soft texture breaks down hard looking rooms to create an inviting space. It can also inject more character in minimalist décor styles.
Availability of faux fur opens up many design options for colours, size and textures.
10. Animal Prints
Discover a fearless style in your home straight from the runways with animal prints! And take your interior design to a whole different level without reserve. It's not for the faint hearted.
Animal prints go with almost everything. They come in warm neutral colours which make them easy to fit into most décor scheme or they come in striking colours that effectively make a statement.
Feeling inspired now? Talk to one of our awesome interior designers in Malaysia available through Kaodim to get their take and recommendations.