Pools aren't only reserved for the rich and famous, although it's only wise to consider building one after you've considered the cost and your availability to maintain it. Once you're in the clear, having a pool has a great aesthetic appeal when it's built into your backyard or when it's cleverly designed to fit indoors. Find out 10 more reasons to enjoy having your own swimming pool at home:
Reason #1: A Pool Is Always More Fun!
Teach your kids how to swim early and spend quality time together – there's never a dull moment around the pool. Plus, no one ever says no to a good pool party!
Reason#2: It's Relaxing
Do whatever makes you calm and relaxed – read a book by the tranquil waters, float away, get a tan or pretend you're on a holiday in the Bahamas. Doing it by the pool  can take you from urban craze to island paradise!
Reason #3: Your House Will Look Super Stylish
Whether you have a pool built indoors or outdoors, it's sure to be a 'wow' factor with guests! Use it as part of your garden landscape or interior design at home. If you're living in an upscale neighbourhood, having a pool is almost a must to increase your home's market value.
Reason #4:  You Have The Extra Money & Space
Why not? What better way to make use of the extra space by building a swimming pool? It doesn't have to be olympic sized but having a small pool or jacuzzi is a great addition to your home as a place to chill out.
Reason #5: Get Healthy
Instead of the gym, you can just jump straight into the pool to do some laps and keep fit. Swimming is very low impact so there's little risk of injuries and is a good way to promote weight loss.
Reason #6: There's Always A Place To Have A BBQ!
There's no doubt – pool equals BBQ! A great way to spend time with friends or display your man-liness working that grill in front of the ladies.
Reason #7: Float Your Stress Away
Floating in your pool is an effective way to release all kinds of stress and worries. Your mind is able to wind down and unclutter all the thoughts that you have about work, family and life.
Reason #8: It Gets Too Hot In Malaysia
This is a pretty obvious reason. There's no better way to beat the heat than a good dipping in a pool!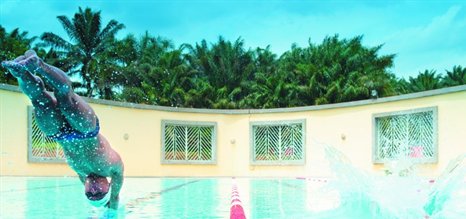 Reason #9: Create A Romantic Date Night
Why spend on expensive restaurants and dinners outside when you can have a much more romantic and private date night by the pool? Make your date a special home cooked meal sprinkled with love (or if you're challenged in the kitchen like the rest of us, you can just order in from a secret source)
Reason #10: It's Actually Cheaper To Maintain Than You Think
In the long term, having a pool costs less than spending on a cruise, a week long family vacation and other types of entertainment. Plus, if you already have a pool, your kids will be less likely to harass you to take them on an island trip!
When you're all set and ready to go, get in touch with one of our interior designers or renovation contractor who can give you more advice on designing a pool for your home.
Or if you already have a pool and need a pool cleaning and maintenance services, just let us know on Kaodim.com and we'll match you up with your nearest pool cleaning company.