There's nothing wrong with plain white ceilings which is what most of us have. But why not make them more interesting – different colours and design on ceilings can affect the visual dimensions of height and space. Despite the grand efforts we take in interior design for our homes to look up to date, the ceilings tend to skip our minds easily.
A great ceiling design can give a unique character to the room,  leaving a lasting impression on the minds of anyone who steps in. Put on your designer hat and pick up a pen and paper (or smartphone), and note these 10 ideas you can do with your ceiling:
1. Multiple Illuminated Squares
This lavish bedroom features a really chic design simply by breaking the ceiling up and installing some subtle lighting that gives your place of slumber the right mood.
2. Tray Ceiling
A tray ceiling can add greater visual appeal to a room. It is also called an inverted or recessed ceiling where the section in the middle is several inches higher than the areas around the room. You can install hidden tube lighting along the perimeter. They work well with high ceilings to keep a room from appearing to big and cavernous.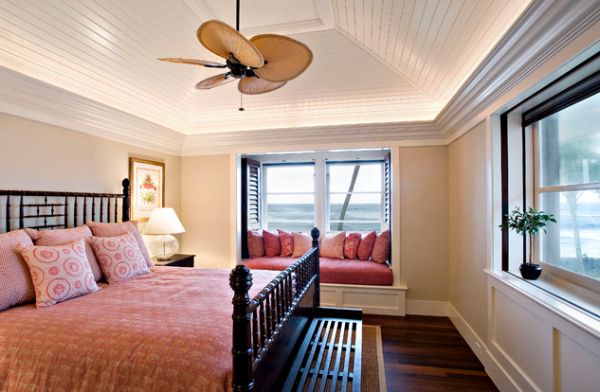 3. Floating Islands
Think of it as a suspended kitchen ceiling island. Instead of having just one island, you can use multiple islands in smaller sizes to create a "cloud of islands." The reflected light onto the ceiling gives the room a nice glow.
 4. Skylight
Having skylight around the house is popular and it's easy to see why. It promotes the flow of natural light indoors — no need to turn on the lights during daytime! Don't limit yourself to a hole in the ceiling, instead, choose stained glass, frosted glass, fancy frames and play around with different shapes and sizes to accentuate your ceiling.
5. Stencil Design
There has been a resurgence of stenciled designs in contemporary homes – people are clamoring for bold graphics that give their rooms a fresh and modern look. We recommend hiring a contractor or handyman to do the job because of the intricate details.
Turn your small spaces into something inspiring!
If you find the stencil details too distracting to have all over the ceiling, you can accentuate your lighting fixture with a simple design just around it. Less can definitely be more.
6.Uneven Ceilings
Ask your carpenter to provide some plasterboard for your ceiling that can be made into different shapes and sizes. With a little bit of effort and some LED lighting, you can transform you dull white ceiling into a real designer miracle. The unusual shape of the ceiling and warm lighting illuminates this room nicely.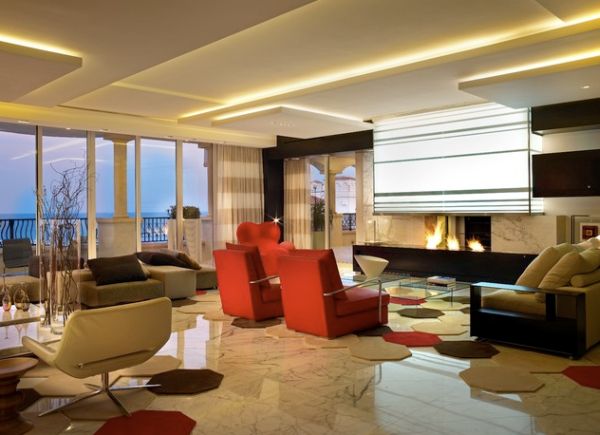 7. Barrelled Ceiling
A barreled ceiling with a beautiful trim offers a unique and more dramatic variation from the common plain and flat variety. You can have a single or multi-barrel ceiling and adorn it with stencil art, brick veneers, ceramic tiles, or a bold splash of paint. The design in the picture reminds one of being in a European castle.
8. Dramatic Art
Custom-made dramatic ceiling designs that function as art promises an inimitable look. This definitely involves professional work by an experienced interior designer. Different types of materials and lighting is needed to create this world of wonder. It's important that it also blends with the decorations and designs in your home. You don't want it sticking out like a sore thumb.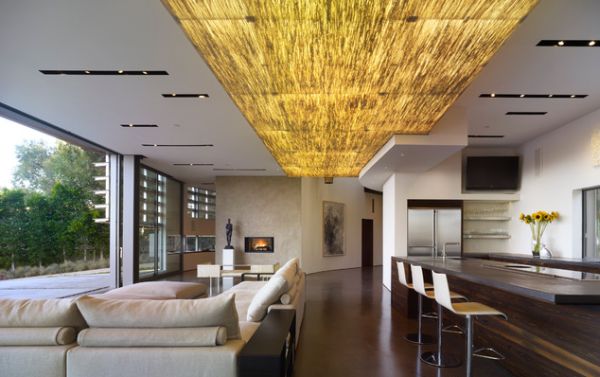 9. Stripes
This can be a DIY paint job if you're prefer to save money on hiring a painter. When choosing what colour stripes to paint on the ceiling, coordinate your colour scheme with the furnishing and other components in the room.
You can also use regular or embossed wallpaper to get the same effect. Always a fun idea to bring more colours to your children's rooms.
10. 3D 
If you can think it, you can do it. The sky's the limit with this one! Definitely a look for the post-modernists!
If you are thinking of a home renovation or remodeling, this is the best time to plan for your ceiling creations – remember, every bit of space counts! Whether it's a small or big job, get to know Kaodim.com list of interior designers, contractors and carpenters who can provide an expert hand in getting the job done.