After a while, your home needs some TLC and a fresh update. Maybe it's time to think about some environmentally friendly ways to plan your home renovation. Start by doing a survey of your space and think about different ways you can add some environmentally safe or recycled materials into your home.
Begin your green transformation with simple eco-friendly alternatives to materials, furniture and fixtures to save energy and reduce your carbon footprint. You'll be surprised how easy these 10 alternatives are – discuss about incorporating these ideas into your home with your
contractor
or
interior designer
:
1. Update With Recycled Glass
Bio-glass is made of 100% recycled glass and has an ethereal and translucent appearance. It is also 100% recyclable! Use this glass to update the tops of your table, sink and cabinets.
You can also use recycled glass tiles to create a mosaic.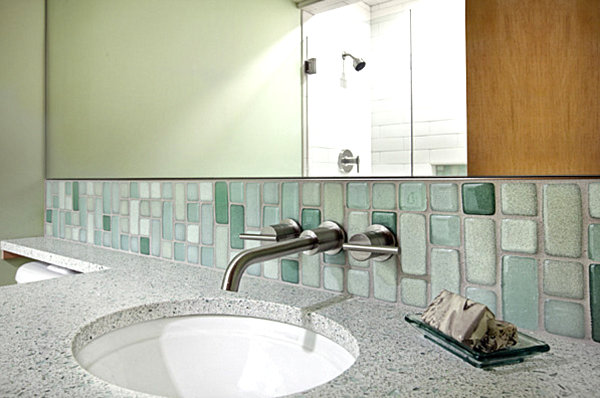 2. Incorporate Salvaged Wood
Salvaged pieces add character to a space – something old is given new life, and your home is given a truly unique personality.
There are many projects that you can do with salvaged wood. These woods are leftovers from wooden crates, palettes and rustic doors. All of them with timeless characteristics preserved from their own time. Stack small pieces together to create a feature wall, assemble slabs to create a chair or table or reuse a door in its own form.
3. And Salvaged Metal
Wood is not the only material you can salvage, you can also salvage metal! Don't let the rust scare you, just get your carpenter to help prepare the metal before installing it into your home. Use scrap metal for doors to achieve a sleek industrial look, or use
Source: houzz.com
For the bold and daring, use salvaged ceiling panels like in this modern home.
4. Salvaged Accent Pieces
Other popular salvaged items include windows and sinks! When someone moves out with everything but the kitchen sink, why not take it home with you can give it a brand new home. This salvaged sink adds charm to the kitchen without the waste.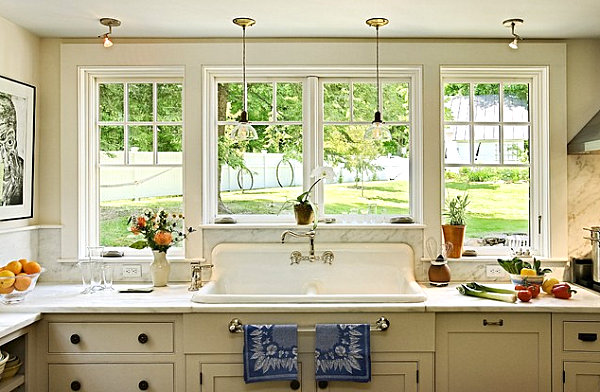 5. Choose Bamboo Floors
Instead of hardwood flooring, consider using bamboo. It looks similar to hardwood and it is also durable and moisture resistant. Bamboo grows back much faster than wood and it can be harvested without disturbing the root system of the plant.
6. Update To Formaldehyde-Free Cabinets
Formaldehyde is known as a carcinogen and anyone wanting to improve their indoor air quality and reduce exposed toxins should pay attention to the makeup of their kitchen cabinets. Cabinets and particularly their interior boxes, are commonly constructed of particleboard, fiberboard or plywood, which are often made with added urea formaldehyde binders or glues which release harmful fumes.
Formaldehyde free cabinets can be stylish and prove healthy to your home.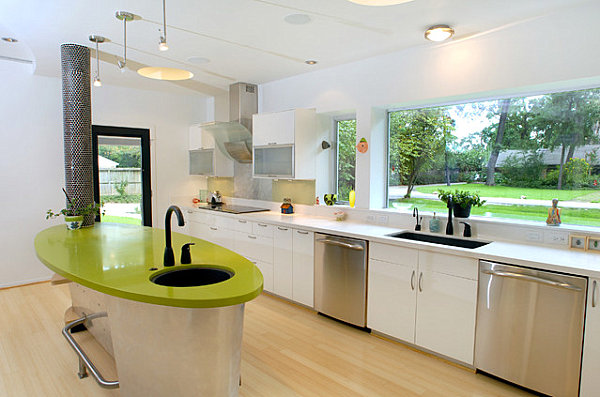 7. Paint With Low-VOC or VOC-Free Paint
The smell of paint usually gives away the fact that you're breathing in something bad. VOCs are 'volatile-organic-compounds', that are chemicals inside the paint that are released into the air as you paint a wall.
Even if most of the VOCs leave the paint as the wall dries, not all of them do and VOCs can continue to be released into the air for years to come.
VOCs are known carcinogens and they have components in the paint that cause you to develop a headache after painting. It can put your family at risk of developing asthma and allergies. So ask your carpenter or DIY store for a VOC alternative.
8. Conserve Water With Low Flow Toilets
Low-flow toilets are ecologically friendly and use much less water than full-flush toilets. Apart from being eco-friendly, the rising cost of water explains why more people are opting for such cost-effective solutions. Newer models of low flow toilets have a modern design and look, and can go well with different fixtures and decor styles.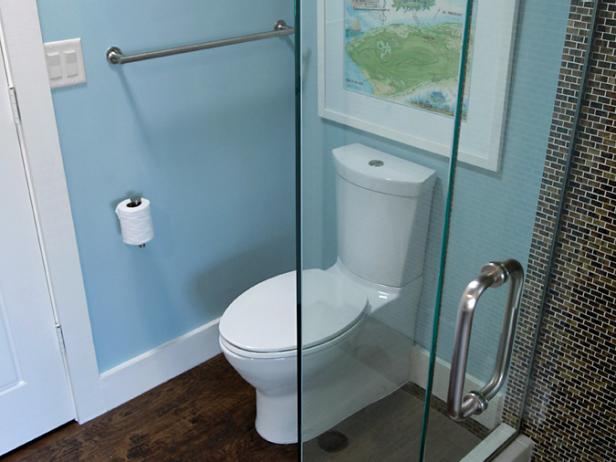 9. Switch To Energy Efficient Lighting
The easiest way is to change your light bulbs to the energy efficient variety like LED, CFL or halogen. Do your homework on how much you are willing to spend and what the light bulbs are used for.
Installing light control systems will also allow you to adjust to the right amount of light, and hence reduce electricity usage.
10. Power Up With Sun Light
You are basically getting free power for your home. Solar panels produce renewable energy so it significantly reduces your environmental impact – you can reduce your CO2 output by up to 40 tonnes over 25 years.
The drawback is the initial high cost and space required to install the panels themselves. So it is considered a long-term investment for the environment and your electricity bill.
If you haven't got someone to help with your home renovation and design yet, just check out Kaodim.com lists of professional renovation contractors, carpenter, cabinet maker, cabinet installation services, painters, electricians and interior designers available in Penang, Johor as well as Klang Valley areas in Kuala Lumpur, Petaling Jaya, Subang Jaya, Puchong and more!