With a little out-of-the-box thinking, wallpapers can be a decorative wonder from the Design Fairies at Vogue! There are so many types of wallpapers available now to fill your DIY cravings regardless of your experience level – from the traditional Brush n' Paste to the modern Peel n' Stick types, you can find a good range of patterns in Malaysia from specialty wallpaper suppliers available locally in stores and online as well.
The right wallpaper can add character and personal style to your room. Designs come in so many colours, patterns, graphics and styles that you'll be sure to find something to make your vision come true. Just be sure to choose a shade or pattern that coordinates with the rest of your interior furnishing and components in the room.
Here are 13 ways to creatively use wallpaper in your home (bet you didn't think of doing this!)
1. Frame It Up
You only need a few inexpensive frames for this project. Just cut out the wallpaper that you have to fit into them and you're all done.
Put together a set of 4 different wallpaper patterns with a common theme and create some eye-catching art in rectangle frames.
You can also use the framed wallpaper to add colour into a room. Try using different frame sizes to create your masterpiece on the wall.
2. Plate Them Up
Frames too common for your taste? Be different and use those old plates as a blank canvas for your wallpaper (or you can just get a set from the thrift shop)
Do the same and cut out the wallpaper pattern that you want to stick on the plate. You can also cut out the bold graphics if you have them in your wallpaper design.
Use some wire-plate hangers to hang them up or get a plate adhesive that is specially made to hang plates on walls for decorative purposes.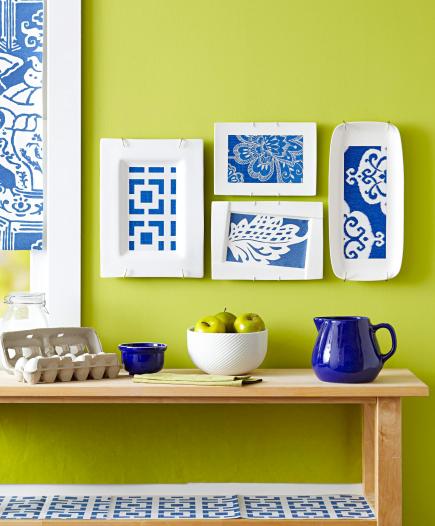 3. Make Table Top Covers
Jazz up your coffee or dining table with intricate wallpaper designs. If you don't have an adhesive to stick the wallpaper on, cover with a glass top to hold the paper in place and for added protection. Bored after one week? Simply change the wallpaper design!
Instead of covering the whole top surface, why not get all designer-ish and create a decorative border for your plain Ikea table.
4. Highlight A Window Shade
Give your plain pull-down shade an arty makeover! Use a self-adhesive wallpaper or use a spray-on adhesive to stick your wallpaper onto the shade for this project.
5. Create Patchwork Art
If you have leftover wallpaper from previous home renovations, don't let them go to waste. Select patterns that can fit into a theme and let your inner creative takeover your wall collage!
6. Frame The Frame
Did we forget to tell you that not only can you frame up your wallpaper, but you can also use your wallpaper to frame up the frame!
Get some peel n' stick wallpaper and line the sides of your picture frames or mirrors to create a decorative boarder. Use a sharp craft knife to cut out the middle part.
(Something off the cheats' sheet, instead of framing the sides of your picture frame, you can create the same 'boarder' effect by lining the back of the picture frame with wallpaper. Place your picture or photo on top of the wallpaper and voila!)
7. Use To Cover Up Flaws
A genius solution when you are running out of ideas on how to cover up a crack or damage on your wall. Just run a strip of wallpaper over the imperfections and no one would ever know! You might also get a few compliments for your inventive idea.
8. Create Inside Surprises
Bring back life to those forgotten places at the back of your wardrobe, cabinets, cupboards and shelves with some pretty designs.
9. Fill In The Blanks Between Stairs
Give your stairs some flair by wallpapering the risers. Try textured wallpapers to add more depth and character.
For a subtle use of pattern, use the wallpaper on every alternate step.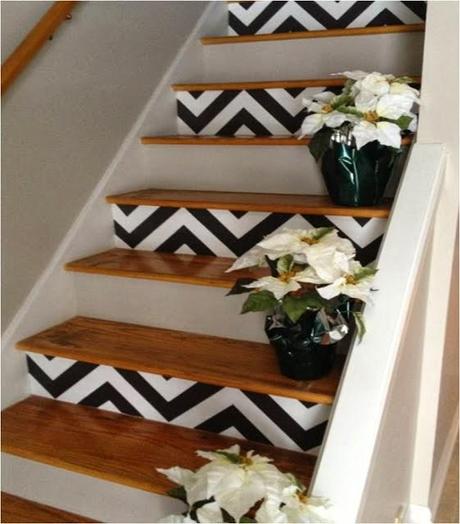 10. Just Wallpaper It!
You get the idea now, if you can stick it on, just wallpaper it – fridge, cabinets, lampshades, washing machine, dryers, drawers and even the sides of the drawers!
Still not sure about picking out patterns? If it's too much hassle, get in touch with our Wallpaper Suppliers who can help with your wallpaper installation or contact one of our Interior Designers listed on Kaodim.com for a personalised design and space consultation.