Plastic, paper, aluminum, glass, and wait, a dining table? Many designers have found creative ways to give new purpose to 'trash' and are even turning these unwanted items into luxury one-of-a-kind art pieces.
There are many furniture and interior design suppliers in Malaysia that source a range of house and office furniture that have been recycled from plastic, reclaimed wood, crates, metal barrels and probably things you and I would never have thought about!
Check out some recycled furnishing that were inspired by turning your trash into cash:
1. Re-tyre-ment Plans
The natural attributes of rubber tyres lends itself very well to both comfort and durability. These Ottoman variety can be covered with fabric, plastic, rope or painted over with a bold colour.
2. Cool Transition
Can you imagine that this couch was a refrigerator before it turned uber-cool? Design company Transfodesign calls this the 'Menage a Trois'. This funky piece of work is coated with VOC-free paint and features cushions made from recycled advertising banners.
3. Cubox Table
This creation by Chartana is an example of upcycling your trash. The frame which makes the main structure, is made from salvaged wooden fruit crates and the sides are formed from rolled-up newspaper. The Cubox is very versatile and can be used as a side table, container, seating or even as part of a larger modular system.
4. Spineless Chair
This creation was made by carefully removing all the book spines by hand, and they were blocked together according by colour to create this patchwork chair. The brass upholstery nails accent against the metallic letters on the spines to achieve a 'Mondrian-esque' look.
If you look closer, the fabric for the upholstery was custom-made to feature a page from each of the books used – now, that's real detailed-work!
5. Junkyard Dreams
Taken from a car junkyard, these parts have been used to make a set of functional and modern furniture items, with a touch of retro.
Classy retro colour combos, leather seats and metal details make these home office chairs and living room sofa look stylish, bold and original.
6. Turning Back Time
Recycling old suitcases are perfect to recreate vintage furniture pieces. Old suitcases are housed individually in steel and wood frames, offering an interesting and surprising combination of chest drawers.
The creation below is the brainchild of JAMESPLUMB, a designer collaboration.
7. Round The Barrel
Wooden wine barrels are becoming popular as an upcycle material. They are usually made of quality oak wood and have an inherent old world feel to it.
8. Leftover Luxury
This 'Leftover Collection' was designed by architect Rabih Hage for Dupont Corian, featured at the Milan Furniture Fair.
He expresses his fascination in his designs for unused material, discarded cuts of stone, wood, metal and it doesn't matter whether they are cheap or expensive. In the spirit of upcycling, reusing these materials as a luxury product and treating the off-cuts as something precious is his real motivation – "a discarded material is as noble and precious as a newly polished stone" he quotes.
9. Skateboard Bench
You might be one of those people who had an X-Game phase and wanted to be just like Tony Hawk, and 10 years later you're stuck with an unwanted piece of wood in your storeroom.
By transforming it into a bench, you can keep those good ol' days in view, without your other half screaming down the sidewalk at you.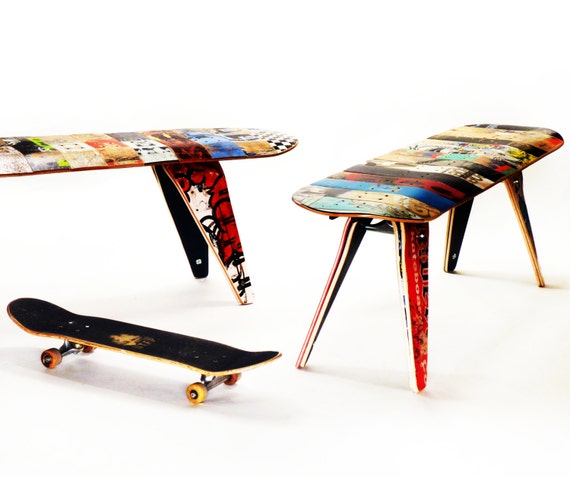 10. Plastic Property
Plastic is one of those materials that refuses to go away and has been an environmental threat. Replicating their usage could be a solution to making them more purposeful and eco-friendly.
There are many ways that plastic can be recycled. The chairs below are made from recycled plastic that have been placed in an injection moulding machine, and the end product looks like it has been beautifully woven out of bamboo.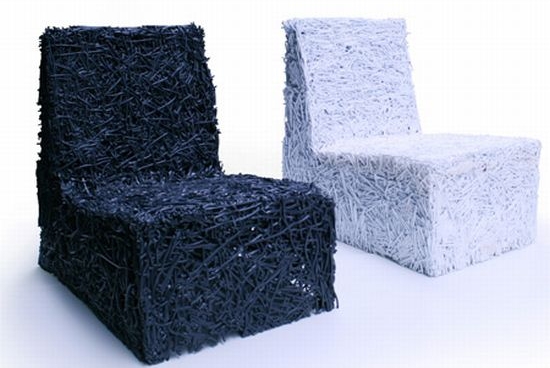 So before you get rid of your junk or leftovers from that last house renovation, look for the bed-side table within it! (Or you can just look for other peoples' recycled treasures)
Find out more about where to get these recycled furnishing from your interior desginer on Kaodim.com.