While the opportunity to decorate your children's rooms may seem like a chance to vicariously live out your childhood fantasies, remember the general rule that, when it comes to children's rooms, less is more. If your children are anything like other children, chances are that they would have just as much fun (if not more fun) in an empty room as they would in one decorated by Walt Disney himself.
Involving your children in the process will be more fulfilling and fun for them. Delegate small tasks where they'll get to be creative and learn some new skills. For instance, have them help make the labels for bags, boxes and shelves, and have them choose the things they use the most to put on the lower shelves. For a start, here are some creative ideas we've come across for children's rooms that will make things a little more fun without going over the top:
Add basketball hoops above the laundry basket or line the basketball net with a cloth laundry bag.
This gives them more incentive to throw their dirty laundry in the right places instead of all over the floor.
Create a mini collection of their artwork on the wall (and save yourself the task of replacing drawn-upon wallpaper).
Children love creating things and a lot of satisfaction comes from adults who admire their work. This is a great opportunity for them to showcase the work that they are proud of to encourage more creativity! If your child loves writing instead, hang up their poems and short stories.
Make a space dedicated for chalk drawing or alphabet magnets.
If you don't want your children scratching out the wallpaper or getting crayon all over your walls, you can buy a freestanding board or panel to prop against the wall, although we recommend securing it in some way to avoid tippage. Give them the space to express themselves (in a controlled environment)!
Make old socks into furniture coasters (or knit and sew new ones) with your kids to protect wood floors.
Neat little craft project that protects your floors as well as add colours to your kids' rooms.
Pick up a DIY birdhouse at the hardware store to make into a night lamp together.
Make the little nightlights friendlier by installing them in birdhouses. The perfect complement is a simple painting on the wall of a lone tree or even a forest.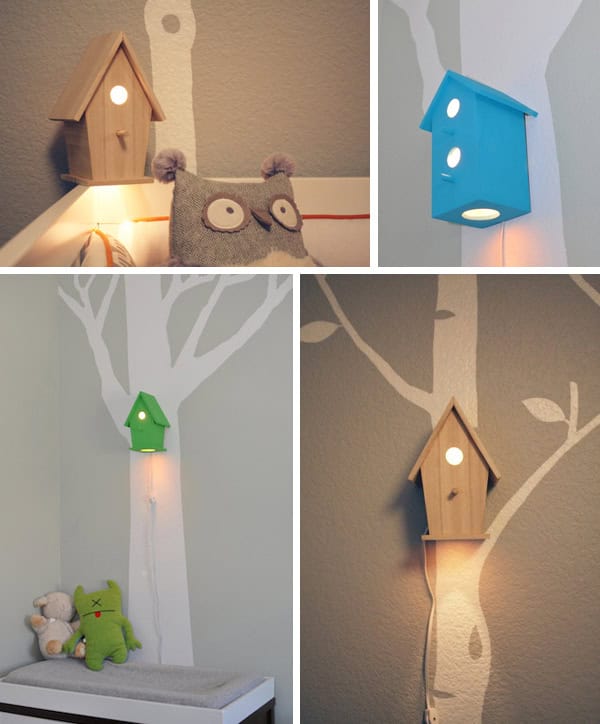 Make a canopy covering (or mosquito net) for their bed and help them decorate it 
This is helpful for the mosquito problem in Malaysia especially when those blood suckers are so drawn to kids. Amp up the fun with decorations on the net.
Make a fun wall design or buy a pre-made decal to track their height.
If you're wondering about damage – most decals will not harm your wallpaper or painted walls and are easily removed. Children are excited to grow and to track their growth. How many times have we penciled our own height on walls and door frames growing up? Help your children do the same.
Build up an alphabet city on their wall
When they are starting to read, they love reciting their ABCs and 123s. To encourage them in the process, an alphabet wall might do the trick. Another idea to make it fun: bring back a letter from each city your family visits, or add letters as the kid learns to read.
Make a map of where they want to go/where your family has been – and add landmarks and animals as they learn.
This is perfect for the family that likes to explore. Even if you're not physically going on trips, maps help instill a sense of curiosity about the outside world.
Make a closet shelf into a desk or drawing space fit for your toddlers.
For this last one, you may want to bring in a carpenter to double check the weight and stability of any existing shelves.
Of course, if you do decide to go the distance and build the ultimate children's room inspired by a Star Trek spaceship, go to Kaodim.com and find expert carpenters and renovation contractors to build your child's (or your own) childhood dream into reality.